Did you know that BDSM could make your sex better? Here's what the science says!
A 2013 study (Wismeijer & van Assen, 2013) found that individuals who engage in BDSM play were less neurotic, more extraverted, more open to new experiences, more conscientious, less rejection sensitive, and had higher subjective well-being.
A 2016 study found that BDSM participants associated their play with a sense of personal freedom, pleasure or enjoyment, sense of adventure, use of personal skills, relaxation or decreased stress, self-expression or exploration, and positive emotions.
Almost everybody has heard of 50 Shades of Grey or knows a bit about BDSM. Do you know what BDSM stands for?
B – bondage 
D – discipline (or domination)
S – sadism (or submission)
M – masochism
Let's dig a little deeper in what that looks like in practice.
Bondage: rope play, restraints, chains, etc.
Discipline: rules, boundaries, desires, and consent are established and expected to be obeyed at all times
Domination [Dom]: power exchange; the one who has the power; dominant
Sadism: someone who enjoys inflicting pain
Submission [Sub]: power exchange; the one who gives up their power; submissive
Masochism: someone who enjoys receiving pain
It is important to acknowledge that any person who is interested in BDSM are not inherently damaged individuals. Many professionals and people you know are in the BDSM and kink community.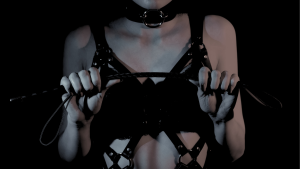 IS BDSM for you?
BDSM may be something you are well-versed in, or possibly an exciting opportunity for you to try something new. Discovering new turn-ons and ways to experience pleasure can be exhilarating. BDSM is not all whips and chains… unless you want it to be!
BDSM allows all partners the ability to pick and choose what they want, desire, need, and what is off the table completely. You are also able to change your choices with each experience, if you'd like. It may be a game of trial-and-error, or you may already know what you like and how you want it; either way; communication is key. Communication before any type of play should occur and there is no such thing as too much communication.
BDSM education revolves around maximizing pleasure and minimizing risk; this also creates an extremely strong importance of consent and communication. Consent is a requirement in the BDSM community and it is crucial to understand the rules of sent and the ability to use a safeword at any time. If you're not comfortable communicating about a type of play, you are not ready for that type of play (i.e. whipping or flogging, pegging, ect.).
Even basic activities that you may think are simple, like spanking or pegging, have important safety considerations. A rope or a whip can be very dangerous if you don't know what you're doing. There are also much more advanced forms of play involving bondage, impact, sensations, and more that require deeper knowledge to ensure there is no lasting or unwanted damage.
Safety & Aftercare
Safe words are a common practice in the BDSM community. Safe words allow both individuals the option to immediately stop any and all acts for any reason. A safeword is generally a chosen word that you would not typically use during a "session" or "scene", such as "onion" or "racecar". The most common safe words are "red" to stop immediately and move immediately to aftercare, "yellow" to slow down but not stop, and "green" to say everyone is okay and enjoying what is happening. 
BDSM play does not have to involve sex or pain! Sensual Dominance is the practice of using toys or play, but without any pain involved. Dom and Sub dynamics can be completely separate from pain play; this is entirely based on what you want!
Aftercare is also a large aspect of BDSM play. Aftercare is the intentional time after a "scene" when the people involved take care of any wounds, emotions, and whatever else you need at that time. This may be snacking, cuddling, consensual intercourse, talking, alone time, or smoking a joint. Aftercare is also used to avoid "dropping" the emotional and/or physical crashing after a scene, where adrenaline and other endorphins stop and the body starts to feel and process everything that has happened. Aftercare may vary and communication is, once again, crucial to allow your partner(s) to know what you need from them.
EngErotics Oh! Nectar Massage Oil is PERFECT for aftercare use.
Want to try it out for yourself? Check out Engerotics Everything Bondage Kit for the perfect beginner's assortment.